Phenomenal Women of Zeta Phi Beta Sorority, Inc.
---
Athletics
---

Wendy Palmer-Basketball Player-Selected by the Utah Starzz in the second round (ninth pick overall) of the 1997 WNBA Elite Draft.



Chantel Tremitiere-Basketball Player-Selected by the Sacramento Monarchs in the third round (18th pick overall) of the 1997 WNBA Draft.

---
Business
---

Sheila Williams-First Black female news and public affairs director for two radio stations simultaneously.

Clara McLaughlin-First black woman to own and operate a television station.

Lullelia Harrison-First executive secretary of any of the Greek lettered organizations.

Jylla Foster-Branch Manager for IBM.

Freddye Henderson-First black owner of a travel agency in the U.S.

Dr. Elaine Johnson-U.S. Department of Health and Human Services ADAHMA Director.

Dr. Lucy Perez-U.S. Department of Health and Human Services Office of Substance Abuse Prevention Medical Director.

---
Politics & Leadership
---

Hon. Juli Carson-Congresswomen-representative of the tenth district of Indiana.

Violette Anderson-First African American attorney to try a case before the U.S. Supreme Court.

Algenita Scott Davis-Past national president of the National Bar Association.

Edythe White-First woman to serve on the Jackson, Alabama City Council.

Judge Bernice Donald-First African American woman elected to the Tennessee Judiciary.

Judge Willie Whiting-Circuit court of Cook County.

Thelma Duggin-Political Activist.



Hon. Yvonne Miller-Congresswoman. 5th District Cities of Chesapeake (part) and Norfolk (part) Member of Congress since 1988.

---
Education & Science
---

Zora Neale Hurston-Writer and anthropologist. One of the leading figures of the Harlem Renaissance, Zora Neale Hurston has been recognized as one of the premiere writers of her day. Her legacy is now recognized at the Zora Neale Hurston Festival held every year in Eatonville, Florida-her birthplace.

Dr. Deborah Wolfe-Former U.S. Education Chief; U.S. Horse of Representatives Committee on Education and Labor; and chairperson of the New Jersey Board of Higher Education.

Elizabeth Koontz-First African American president of the National Education Association.

Anita Turpeau Anderson-First woman on the debate team at Howard University.

Myrtice Taylor-First African American superintendent for curriculum and instruction in the Atlanta Public Schools.

Gwendolyn Brooks-Author.

Lisa Muhammad-Authour and "Literary Liberator".

Jackie Torrence-Griot (African Storyteller)

Dr. Alyce Gullantee-First African American psychiatrist to receive an Emmy.

Versia Lindsay-First woman to graduate from the School of Sciences at Atlanta University.

---
Entertainment
---

Grace Ann Bumbry-Opera singer. Featured in Bayreuth, Germany's Wagner Festival. The first black to sing there. A mezzo-soprano who also successfully sang the soprano repertoire, Grace Bumbry recorded on four labels and sang in concerts worldwide.



Esther Rolle-Actress. She is best known for her role as Florida on the long running CBS television series, Good Times. Recently seen in Rosewood.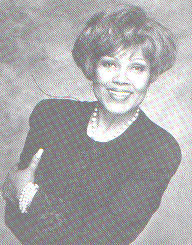 Jan'et DuBois-Actress. She is best known for her role as Wilona on the long running show Good Times. She can now be seen in her recurring role as the grandmother in the WB's show The Wayans Brothers.

Dr. Tonea Harris Stewart-Actress. Best known for her role as Aunt Etta in the TV show In the Heat of the Night. She recently starred as Samuel Jackson's wife in the motion picture A Time to Kill.



Sarah Lois Vaughn-Jazz Singer. In October 1942, she entered and won the 'Amateur Night' contest held at New York's famed Apollo Theatre. She was launched on a career where she sang with such greats as Charlie Parker, Dizzy Gillespie, Miles Davis, Art Blakely, and Budd Johnson (legendary founders of the modernist 'Be-Bop' era). Once she had gone solo (as she was to stay for the rest of her career), she began to establish herself as a force in her own right.



Dione Warwick-Singer. Among her other hits are the #1 Then Came You (with The Spinners) and the Grammy Award winning That's What Friends Are For (with Gladys Knight, Stevie Wonder, and Elton John). She earned seven Top 40 singles in the 1980s alone. Overall, she's garnered 1 platinum album, 5 gold albums (including 1985's Friends) and 5 Grammy Awards.



Minnie Ripperton-Singer. Her 70s soul classic Loving You, was entitled A Huge Ever Growing Pulsating Brain That Rules from the Centre of the Ultraworld (1989). The record was eventually a hit, but its greater significance lies in its claim to being the first ever ambient house record.



Sheryl Underwood-Comedian. Considered one of the boldest women in comedy, she has appeared in shows such as Russell Simmons' Def Comedy Jam, BET's Comicview and the Lou Rawls Parade of Stars. She also donates 5% of all her road earnings to her beloved sorority.

Syleena Johnson-Singer. Most famous for her hit single I'm Your Woman. This song is on her most recent album called Chapter 1: Love, Pain & Forgiveness. You can check her out at www.syleenajohnson.com.



Tawanda Braxton-Singer with the R&B group, The Braxtons. She is also the sister of Toni Braxton.

Tommie Patrick-Actress.

Melba Moore-Singer.

Anita Baker-Singer.




This information was taken from the National Home page of Zeta Phi Beta Sorority Incorporated


National History * Chapter History * Lines * Mu Chapter Birthdays * Upcoming Events * Miss ZFB
Awards & Recgonition * Photos * Mu News * Links * The Bond * Our Brothers * Interested In Zeta??
View My Guestbook * Sign My Guestbook